Bundles of Firewood - Kiln Dried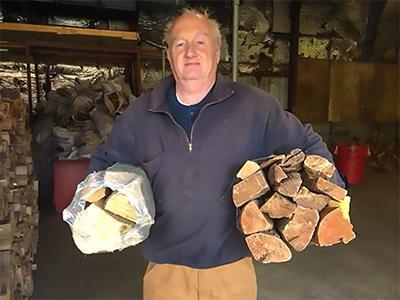 Bundles gas station vs Bostonfirewood.com firewood bundles
Bundle sizes - gas station size vs larger BostonFirewood.com bundles
Due to COVID-19 and social distanceing we can not currently provide stacking services we will resume when closer contact is safe.
Firewood bundled for occasional fires in the fireplace is now available for Boston area customers. Our deal is better. We sell more wood at a lower cost. Gas station bundles of firewood typically are sold at about seven to eight dollars a bundle. The bundles are .75 cubic feet and have as few as 4 pieces of wood. Bostonfirewood.com stocks and sell bundles of New England kiln dried firewood Out bundles that are 1.5 cubic feet for a price of Ten Dollars. So you get twice as much wood for about two or three dollars more. Now, that's a deal!
We sell real kiln dried fireplace logs that light and burn easily. These larger bundles typically fuel a fire for about 3 hours. This firewood product in our opinion will really beat pressed wood logs or gas fireplaces. They provide a real New England ambiance to enjoy and relax to around the fireplace. Our logs are kiln dried so there is less water in the wood, they light easily. The wood is bundled for ease of storage and fewer trips to get them into the house and stored for when you want a relaxing evening. For quantities below a face cord, we are gear for bundle pick up service at our yard call us at (781) 254-2773 before you stop by.
Here is a video view of our bundles of wood available for pick up at our yardWe have built our business on selling, delivering and stacking for customers at there homes kiln dried firewood in face cord amounts and larger. It gets too expensive to deliver smaller quantities of wood compared to the total price. So for people that do not have the room to store the wood and do not frequently burn wood in their fireplace in the past, we did not provide a solution.
Firewood Bundle Pick Up Service
Now we have added pick up service at our firewood yard. We do this for a couple of reasons. It is a way for people that are looking for firewood near them to get a high-quality product that lights and burns well nearby. Customers can see for themselves the source of our wood. It is a crowded yard off the beaten path that is not glamorous and a basic working facility. You will also see that there is no mud or dirt the wood is stored on. The wood is inside and kept dry from the kiln all the way to us and then in a heated garage until you pick it up. Call Paul at (781) 254-2773 so we know you are comeing and open the doors for you. It can be noisy in the shop.
Kiln Dried Firewood Sampler
Secondly for customers that are buying seasoned wood by the cord they can get a small amount of wood and see for themselves the difference in how our wood burns. It is a good deal for the customers and a good deal for use in that we want to spread the word that burning kiln dried firewood is worth it. As they used to say "try it, you'll like it" so we want to make it convenient to try. We hope this helps convert seasoned firewood customers to be our customers that want good burning wood for the fireplace.
Bundle Size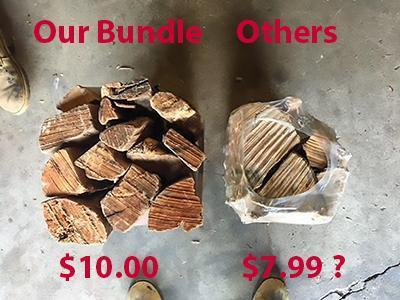 It is pretty clear what the better value isWe load, deliver and stack firewood all day long and find that the bundles we handle are light enough to carry but not so small that you have to make a lot of trips from the car to the fireplace. We suspect that the small bundle dealers are selling at convenience store prices a product that they really are not committed to. The bundle sizes are kept small so the price is low and not take up a lot of space. Our bundle size also helps better match what typically is used for an evenings fire in the fireplace.
We scour New England for the highest quality kiln dried wood then store it indoors out of the weather. In fact, our firewood storage is in a heated garage from when we get it to when it is loaded on our trucks for delivery to our customers. To use the firewood is not an afterthought product sold as a convenience item or add on sale. It is what we do. Being indoors it will not get rained on, will stay dry and clean as well as not develop mold. Bringin our product into your home, you do not have to worry about bringing in seasoned wood that can have termites, bugs or other pest infestations that then take up residence in your home.
How long will the bundle last?
We have found from our customers that our bundle of firewood it will last for about an evening of burning or about 3 hours. For weekends relaxing around the house watching a game or reading a book then it would usually take two of our larger bundles of firewood
Advantages of Kiln Dried Firewood
Firewood Moisture Content
Cornell University says that the biggest quality factor in firewood is moisture.Most firewood dealers sell green, or freshly cut, wood, which could have a moisture content of 100% or more (100% moisture content means half the weight of the wood is water). Water in the wood has to be heated and forced out of the wood before it can burn. That is why often you will see bubbling and hissing at the ends of a wet piece of firewood as it burns. The water can only move lengthwise in firewood logs not sideways since all the wood fiber goe horizontally.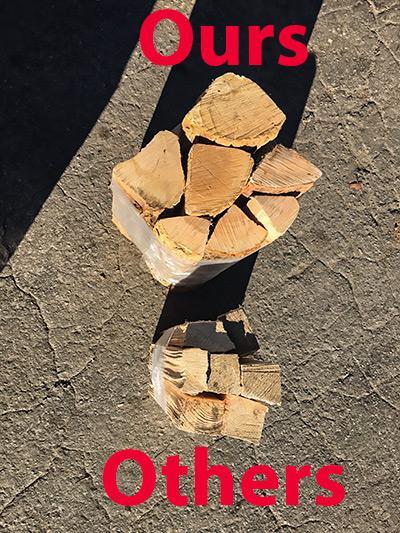 Our bundle size compared to most othersSeasoned wood takes at least 12 months or more to reach a moisture content below 20%. This takes a lot of space and planning ahead. If in doubt take a look at your supplier's yard in May to July and if there is no wood stacked up then you certainly are not getting a low moisture really seasoned wood. Most seasoned firewood suppliers run out by the time it gets cold so there is little chance the wood is being seasoned 12 to 18 months to get a good moisture content. In the Boston Area, real estate costs are just too high to tie up space for a low margin bulk commodity like firewood. To save space if it is stack real high it will not dry because air can not get to it.
Our kiln dried wood is has a target moisture content of about 15%. This makes for a fire that is easy to light without a lot of kindling, having to fuss with it and the wood will burn brightly. It is not so dry that it burns too fast.
Kiln dried firewood It is a controlled product that is not tied to the weather and does not takes a long time to produce. Logs for kiln drying are selected to be initially a convenient size of wood that splits down to pieces that are easy to handle and easy to dry. In days a piece of wood can be turned into great burning logs that have just been cut. This means that we can handle the surge in demand that comes from an unusually cold snowing winter. We do not run out.
Kiln dried firewood burns best - drier

highest BTU's / heat out put of any firewood
3 times more heat produced
Guaranteed Dry Ready to burn NOW
Consistently low moisture content
below 20% moisture content
We dry the wood down to the wood fiber level

Benefits of kiln dried firewood

Easier and quicker to light
burns cleanest
Less hissing, popping and sparking
popping caused by too much vapor is trapped inside the wood
Not as much smoke
Little or no Creosote created in chimney

Very little ash
Less Tending to the fire required
The logs burn completely

Consistent supply and quality

Our product is Produced in 50 to 72 hours from being split
produced throughout the year on demand
Available year round

The wood it's self

All New England hardwoods
Cut to consistent 16" lengths
Clean wood /never in dirt after it is split
Insect free
We store the wood in our heated garage
Safe for you to store indoors
We recommend store indoors with good airflow and light, not a damp basement
Bundles clean and efficient to move

Pick up available at our yard
Pest-free
With controlled heat to the center of the piece of firewood, we know that any bugs are killed and are not hibernating in the wood ready to come out when brought into your house. Most homes are not easily infested but who wants to take the chance.
Clean wood
Handling our wood does not include being on the ground at all. Prior to cutting to length, the wood is stacked in piles up off the ground to help keep it clean. Once the wood is cut on the wood process it goes directly into metal baskets. These loaded baskets of wood are then loaded into the kiln to dry them out to the right moisture content. After running through the kiln the dried wood is then stored inside on paved floors so no mud or dirt is added in handling. Some slight amount may be there from the logging operation but it is minimal. Prior to delivery, the pieces of wood are screened through a large tumbling to pull out any of the dirt and small pieces of wood that are loose. This ensures that the pieces are clean and uniform is a set size range.
Our location
Our location is in Hyde Park at the end of a dead end road and a little hard to find down a pretty narrow road off Dana road near one of the City of Boston Highway garages. Dana road forks off Hyde Park Avenue a little past McDonalds coming from the south.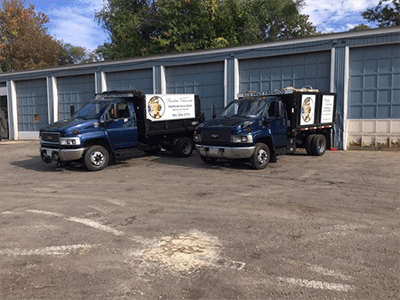 Boston Firewood our shop doors and trucks set for deliveriesOur Yard is full of equipment and the firewood is stored indoors where the bundleing and sorting of the wood is done. Please knock on the center door so we know you are looking to pick up wood. Often we are loading a truck so would know you are there, but if they are closed we do not want to keep you waiting.
Pick up
We are available working hours and ask that for pick up please call first since sometimes we need extra people on large or difficult deliveries that have a lot of stairs or long allies with no parking available. At our shop being a closed indoor facility knock on the blue overhead door in the center of the building since most of the time, they are closed. Call Paul at (781) 254-2773