Dried Firewood Near Me
Firewood delivered in Boston and Metro West Area of Boston
Due to COVID-19 and social distancing we cannot currently provide stacking services we will resume when closer contact is safe.
When looking for a firewood supplier you want to make sure your Google search got you to the right place. Well if you are in the greater Boston area you have found the right place. We provide concierge firewood service of kiln dried firewood delivered and stacked or if you want to pick up at our yard in the Hyde Park section of Boston.
Boston Firewood is a full-service firewood supplier that sells kiln dried firewood. The wood is selected from the best kilns to light easily and burn brightly. The wood is kept clean and dry indoors so that it can be stored indoors close to the fireplace. We inventory our wood in heated garages in the Hyde Park section of Boston near the Readville Railroad Station. That is why we say that we coddle our wood. It is treated with care not just piled in heap in a muddy supply yard. We have pictures of one example but took it down because it would be offensive to a competitor. It is better to talk about what we do right not others. The wood was dumped in deep mud right next to a tractor-trailer-sized puddle and left outside uncovered.
Our Firewood is Coddled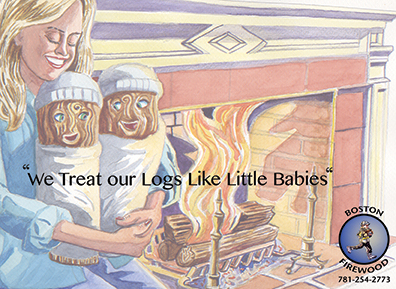 Stop By Our Yard And See For YourselfBy this, we mean how our firewood is handled. From the time the logs are selected in the forest to delivery to you, it is handled to be the highest quality dry firewood free of dirt, waste pieces of wood and heat treated to kill any an all pests harbored in the wood. This is what we mean by coddled we treat the wood like they are our babies so that when you get it the wood is ready to burn. It will not smell like a baby just out of the bath, but it will not look like it was just dragged through a mud puddle either or a hotel for termites. We do this in the handling. Our wood is kept clean from the time the wood is split to the time it gets to our customers in the Boston area the wood is stored on concrete or asphalt pavement. Then at our yard on Easton Avenue, it is bundled and stacked waiting to be delivered.
How to check the quality of firewood
One of the best ways to ensure getting clean dry quality wood is to visit the vendor's yard and see how they function and store the wood. We are more than happy to have customers visit our location and pick up whatever quantities of bundled wood they would like. If you are a new customer that has not burned kiln dried wood this gives you a chance to try good kiln dried wood and see for yourself how it lights and burns better than "seasoned" or "semi-seasoned" firewood sold in the Boston area. This way you get wood at a better price than the local convenience store that may be near you and for people looking to buy larger quantities delivered it is sort of like a sample at the ice cream store where you try it before you order more.
Boston Area Delivery and stacking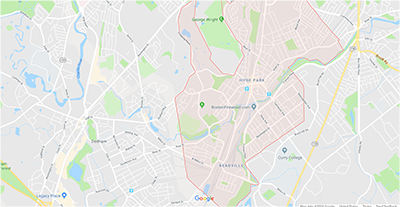 Hyde Park Boston Massachusetts Map To Our Firewood YardHaving firewood nearby means we can efficiently service our customers from Beacon Hill out to The Town Of Weston and Wayland. To look at it a different way if you draw a 15-mile circle from out shop that is the area we focus on. To be efficient it does not make sense to run up to the North Shore then down towards the Cape. Drive times traffic around Boston area road just make it too hard to give good service if we cannot be efficient. We both deliver our kiln dried firewood we include first-floor stacking of the wood. In crowded places with no parking we still make it work getting down allies and working our way around the Gaslight lined cobblestone streets of Beacon Hill or the South Boston area, we get it done. Sometimes we may mumble under our breath about the meter people but it is all part of the deal. We would much rather stay local and have satisfied customers refer us to other people that want a quality firewood product.
Our Boston Firewood Guarantee
As any local company knows it is better to serve everyone as best you can and be nice to people since there are a finite amount of people to have as customers. It is not like we can burn our bridges behind us and just move to New York City. We base the company on satisfying one customer at a time. If you are happy with the product and the service please tell a friend. If you do not tell us. We will make it right. For this, we put our money where our mouth is and when someone refers a customer to us and they tell us, then we give you a gift and some extra wood in appreciation. If for any reason a customer is not happy we want to know and be given the opportunity to make it right. We also back this up with our firewood guarantee.
Our Delivery area
You do not have to be close to our shop to use our service. When searching for dried firewood near me we take that to mean you want a local supplier of firewood that will take care of your firewood needs in the greater Boston area. We deliver within a 15-mile radius of the Riverside section of Boston. This means we do all of Boston then out the Mass Pike into Metro West to Weston/ Wayland then over and down through WestWood/ Norwood MA then continue to swing over to the Hingham / Cohasset area. Sort of following the arch of !95 as it swings around Boston.
Bundled Firewood Pick Up - We are Nearby
If you know the Redville or the Dedham sections of Boston then you can figure out just how near you are to our firewood yard. The other way to look at is we are close the Boston City line that joins with Dedham MA. For customers that want less than a face cord of firewood, we are happy to have customers stop by and pick up whatever the number of bundles of wood they want. Also for loose firewood, we have skid steer loaders that can load a pick up easily. The bucket is small enough to accommodate a truck without slamming a large amount in from a big bucket that is way bigger than the truck and you have to worry about sheet metal damage.
If you are in the Boston area call us we will come with the quantity of firewood you want. It will be kiln dried so it burns well. It is a quality product backed up with service so you can enjoy a great fire without having to go out and be Paul Bunyan for a day. You just call for delivery call 781-254-2773 or come over to our yard and we take care of the rest. For pickups please call first so we can make sure we are there.