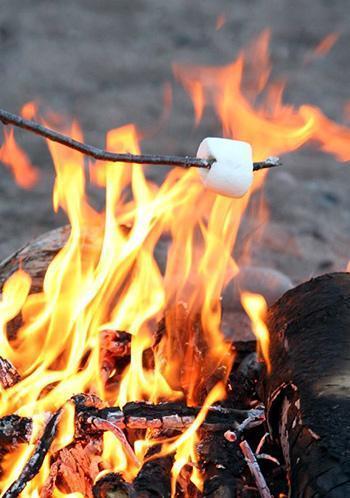 Summer evenings are great times for a campfire and roasting marshmallows.
Camp Firewood
Due to COVID-19 and social distancing we cannot currently provide stacking services we will resume when closer contact is safe.
Camping and a fire at night just seem to go together, like corn on the cob and butter. We stock kiln-dried firewood that is bundled for easier delivery and handling. The fact that it is bundled and it is kiln dried makes it very attractive for use as camping wood. The concern for transferring pests and disease is taken away since the wood comes from an area that is not restricted. The wood has also been heated to over 175 degrees so no pests, fungus or pathogens are present to be transported to a new place and cause a problem.
Sold in Partial Cords
All winter long, we supply Boston area residents with wood to burn in the fireplace so they can have a pleasant evening and relax. With our firewood delivery service, we also stack the wood for the customer wherever they need it at the house, apartment, townhouse or condominium. The labor to get the wood where you want it is included. Because many people do not have room to store a lot of wood, we sell our wood in small quantities right down to a quarter of a cord. This way, you only need to buy what fits in the space you have.
We deliver partial cords of kiln-dried wood year round. This means that when you are looking for campfire wood, you can stock up on what you think you will need for the summer seasaon campfires in the forest or at the beach and not have to worry about finding a local supply that may not burn well. We know you want to start the fire and not fight with a lot of kindling and problems. Any wood left over from camping makes a great start to the fall and winter season burning in the fireplace.
Kiln-Dried Wood
Because our wood has been dried and has never been stored outside since leavingthe kiln, you will get a fire that starts easily and burns well. We will not deliver our wood in the rain. It is up to you to keep it dry until the campfire is ready. We certainly know that is easier said than done on some rainy Spring days.
If you're looking for more than a couple of gas station bundles of wood and do not like the high price of wood sold at the campground, call Paul at 781-254-2773