Boston Firewood's Stove Store
Wood Stoves, Coal Stoves, and fire pits
For our coal and firewood customers, we have a dedicated area to display the stoves and firepits we offer. The goal of our products is to burn safely the product you buy to provide warmth, comfort, and the ambiance of a fire on a cold night for our customers throughout the Boston area and Metro West area.
At Boston Firewood we feel it is important to be able to see what a stove or firepit looks like before you purchase it. In purchasing a stove or fire pit we understand that you want a safe and convenient way to heat an area and create a warm ambiance to your home. You want a durable product that will last.
With the changes due to COVID-19, A lot of people are now buying products online which is fine and has a lot of convenience to that purchase method. Other people want to see touch and understand the quality of a product before they purchase the product.
Online photos and images make it hard to compare one model to the other as well as really getting a handle on the scale of the product. Comparison of things like the gauge of the metal, the fit, and the finish of a product is much easier when you get to see it in person at our stove store display area.
Breoo Fire Pits
Breoo is the originator of the "Smokeless Fire Pit" and has been working continuously to improve the product and now we are offering this product here in Boston. There is a range of options from very portable firepits to built-in units for a patio. The Breoo firepit can be an addition to the fireplace inside to also have great fires outside with a relatively inexpensive purchase. This way you can enjoy the ambiance of a nice burning fire and have a high-quality product that will look good for years. Now you have the ability to enjoy a fire and socialize around it as well as cook on the open flame. For a larger cooking surface, they also offer a SearPlate to provide a larger cooking surface around the edge of the fire pit. Take a look at our page that explains more about the 24-inch stainless steel firepit that we stock here in Boston Ma.
Hitzer Products
For over 40 years Hitzer has been producing coal and wood-burning appliances. It makes sense that they chose the name Hitzer because in the swiss language that is the word for Heater. With Switzerland being the origins of the Old Order Amish and Amish Mennonites. This heritage of the company is reflected in the quality of Amish craftsmanship to manufacture wood and coal stoves. Hitzer makes products for both alternative heating, fireplaces, and outdoor patio living spaces.
Hitzer originated in 1975 in Adams County, Indiana, the center of rural farmland and heart of Amish country today. Hitzer began as a small blacksmith shop making wood and coal stoves for local Amish homes. These stoves were created to heat entire homes and large workshops. Hitzer became known as a local stove shop that made an outstanding heating product with family-friendly service.
Wood Burning Hitzer Products
Click to Enlarge
Custom Fire Pit
This fire pit is 100% customizable graphic. With your name, logo, this firepit can be customized to your desire. Built heavier than most outdoor firepits; Hitzer firepits are made to last. Available size 24" round.
Mobile Fire Pit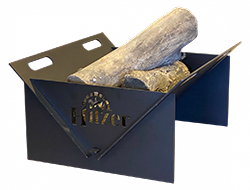 Click To Enlarge
A trendy fire pit design that can go anywhere. Easily assembles and dissembles so this heavy-duty firepit can be mobilized for the avid traveler or camper. Its unique design and construction also makes for a modern-style centerpiece of any backyard campfire.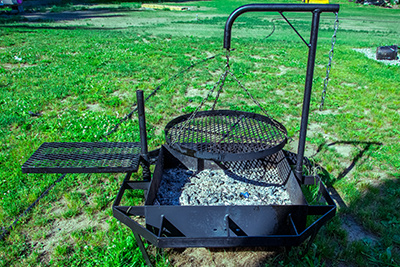 Wood Burning Firepit/BBQ Grill
The outdoor fire and barbecue pit creates a fun and relaxing environment. Built with Hitzer quality utilizing Amish craftsmanship and durability, the Outdoor Fire and Barbecue pit is a portable fire pit that is built to last. With a large pit area, it is capable of holding the fire that you desire. The convenient railing surrounding the fire pit creates the availability to prop your feet up and relax while gazing at the fire. The removable steel lid protects the fire pit from precipitation. Utilize the removable rotating arm by grilling or barbecuing on the provided large steel grill. Raise and lower your grill to the height desired. Remove the grill and hang a kettle from the rotating arm for another added option of outdoor cooking. Built on four legs the fire pit and barbecue can be located on just about any surface. Available sizes 20" x 20" and 26" x 26".
Fire Ring
The Hitzer Outdoor Ring is a heavy-duty fire ring with a BBQ grill crane mount. This is an ideal ring to utilize in the backyard with landscaping stone or decorative block. Create the outdoor fire pit you have always wanted. Multiple sizes are available.
Hitzer Coal Stoves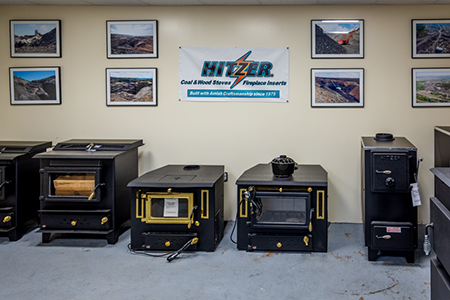 One View of our Stove Store
For our Coal Stove Customers safety precautions
Always keep small children away from the stove and when unattended they should be blocked from the room where the coal stove. Please do not be shy in using locks and strong barriers to make sure that any children or pets cannot contact any hot surfaces.
Make sure you have in multiple locations high-quality smoke detectors installed and working in your home. The smoke detector should be either battery operated or have a battery backup to ensure that the detector works if power is disrupted. Naturally, regular tests of the smoke detector should be twice a year.
Make sure your chimney or direct vent is clean, clear, and in good repair. Have your chimney inspected by a competent professional? Also, make sure that the disposal of all ash is in a metal container and taken outside, and kept away from any combustible materials such as a wood deck.
To be safe also have a fire extinguisher nearby and everyone in the household needs to know how to use the fire extinguisher. At the start of each heating season make sure to have the fire extinguisher checked annually by a qualified technician. In some areas, the local fire company may provide this service.